The Importance of market research !
With the economy becoming more and more competitive with each passing day, having apt knowledge about the concerns and preferences of your customers has become integral for any business. Market research is the best way to increase customer satisfaction, understand the factors that affect your business, and to elevate your performance.

Three reasons why market research cannot be ignored:

Market research can guarantee the success of your marketing campaigns, and in-turn sales
Market research not only helps in identifying new business opportunities, but also helps in designing marketing campaigns that will directly target the interest of your potential consumers and help in increasing sales. Marketing research provides valuable information about the potential of a particular market segment, during a specific time, and within a particular age group.
Market Research Can Help You Keep a Tab On Your Competitors 
Marketing research is a good evaluation tool that can be of great use in comparative studies. You can track your company's progress as well as the growth of your competitors, by keeping an eye on your competitors. You can devise business strategies that would keep you ahead of your business rivals.
Market Research Can Help You Minimize Loss in Business 
With market research, you can reduce the chances of loss to a large extent. Before launching a product, you can identify potential problems and even determine the solutions. The research carried out after the launch of a new product can help you find loopholes and devise plans to counter that loss and increase the profits.
Why companies require market research?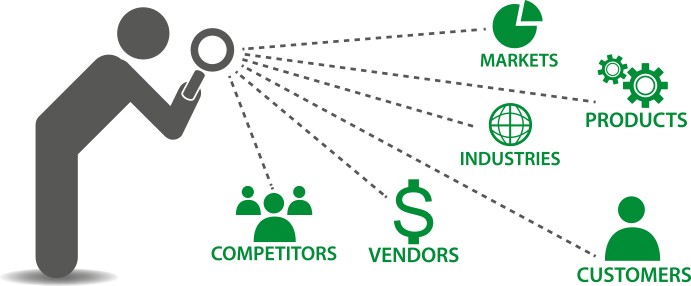 Marketing research is needed on a continual basis, if you want to keep up with the latest market trends and gain a competitive edge in the business market. Understanding market research and using it to your advantage is vital in reaching out to your target audience and increasing your sales.
Here is why your company should conduct business market research:
Identify the problem areas in your business
Understand the needs of existing customers and why they chose your service over competitors
Identify new business opportunities and changing market trends
Recognize new areas for expansion, and increase your customer base
Discover potential customers and their needs, which can be incorporated into your services
Set achievable targets for business growth, sales, and latest product developments
Make well-informed market decisions about your services and develop effective strategies
If you are wondering, what exactly market research is, and what types of businesses require market research, then here is your answer. Market research consists of two types of research, primary and secondary and almost every type of business requires market research in order to be successful.
Primary Research
Monitors the effectiveness of sales, existing business practices, the quality of services, and the tools used for communication. Additionally, it also assesses the current market competition by evaluating the business plans of your competitors.
Secondary Research
Collection of already published data to create a company database that helps in situation analysis. It devises strategies for benchmarking, and helps in determining the market segments that a company should target.
Feasibility studies 
Image and awareness 
Competitive assessment
Satisfaction surveys 
Lead qualification 
Location analysis
Focus groups
In-depth interviews (IDIs)
Intercept surveys
Mystery shopping
Digital engagement
Online surveys
Telephone surveys
Mail and paper surveys
Mixed-mode surveys
Panel research
Data analysis
Automotive 
Education 
Financial Services 
Food + Beverage 
Government 
Healthcare
 Manufacturing / Retail
 Non-Profit
 Real Estate